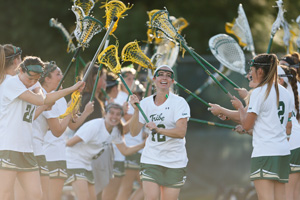 Women's Lacrosse vs. Towson
April 19, 2015 1:00pm
Come out and support the Tribe! More...
GriffinCon

Trinkle Hall

Do you like science fiction, fantasy, cosplay, and board games? Come out to GriffinCon, W&M's Sci-Fi and Fantasy club's annual gaming and geekery convention happening April 18 in Trinkle Hall starting at 10 am!

Peak Experiences Climbing Gym

Off-Campus, Peak Experiences in Richmond, VA

Take a ride in the Climbing Cab with the Tribe Adventure Program as we head to Peak Experiences, a premier indoor climbing gym.

Chi Phi Karting Tournament

James Blair Hall, Room 201

Come join the brothers of Chi Phi for food, fun, and MarioKart! Free pizza will be served, and prizes will be awarded to the top three finalists. We will also be collecting donations for our national philanthropy, Boys & Girls Clubs of America.

J-House Movie Night "Princess Mononoke"

Preston Hall (Randolph Complex), Japanese House Lounge

We will watch the movie "Princess Mononoke". There will be a quick presentation before the movie, which will be followed by a discussion. All are welcome to attend, and snacks will be provided!!

[AMP] Drag Queen Bingo

Sadler Center, Tidewater

Come out to Tidewater A&B for some classic BINGO fun with an added twist -- you can watch Professional Drag Queens perform. Prizes, bingo, drag queens, music...honestly why wouldn't you come?

Show More...
Ongoing