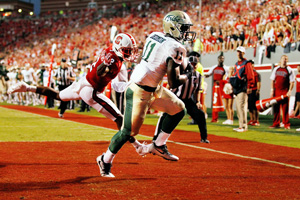 Football vs. Delaware
October 25, 2014 12:30pm
Come out and support the Tribe! More...
Shoreline change in urban Massachusetts: time for retreat?

VIMS - Watermen's Hall, Andrews Hall 326

Porter Hoagland, a Senior Research Specialist in the Marine Policy Center at Woods Hole Oceanographic Institution, will examine the dynamics of coastal meta-ecosystems by testing the intermittent upwelling hypothesis in rocky intertidal regions.

Chemistry Fall Seminar

ISC2 (Rogers Hall), Room 1127

Norah Bate (W&M B.S. '09, M.S. '11) of LORD Corp., R&D Headquarters, Cary, NC, presents "Temperature-Cure Adhesives for Post-Vulcanized Rubber to Metal Bonding." Please join us for refreshments before the seminar.

Open House for The Haven

Campus Center, Room 166

Please join us on Friday, October 24, 3 - 6 p.m @ Campus Center 166 for the opening of The Haven: A Center for Support, Advocacy & Empowerment. There will be light refreshments & tours of the space with information on what The Haven offers our community.

Bloomberg Aptitude Test

Miller Hall (Mason School of Business), Financial Markets Room 1066, Miller Hall

The BAT is a multiple choice test that evaluates your abilities as relative to a career in finance and then helps you to anonymously market yourself to over 20,000 employers via the Bloomberg Talent Search.

Cardio Hip-Hop

Student Recreation Center, Group Fitness Studio

w/ Anna & Sarah

Spinning

Student Recreation Center, Multipurpose Studio

w/ Ally

Show More...
Ongoing