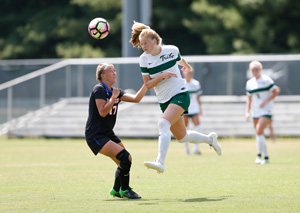 Women's Soccer vs. East Carolina
August 28, 2015 7:00pm
Come out and support the Tribe! More...
WCWM 90.9 Interest Meeting

Campus Center, Basement

Interested in hosting your own radio show, planning concerts, learning the ins and outs of college radio, or just hanging out and talking about music? Come to WCWM's first meeting!

Accounting Edge Conference, Part 2

Sadler Center, Tidewater Room

The two-night Accounting Edge Conference will feature insightful presentations on careers in the accounting field by professionals from many different accounting firms.

Show More...
Feather Foster Signing The First Ladies

William & Mary Bookstore

This painstakingly researched new book examines the oft-neglected roles of 26 remarkable first ladies in shaping our country's destiny.

Bike to Panera with the Bike Initiative!

Sadler Center, Terrace

Did you know you can get around Williamsburg solely by bike? Ride to New Town & Monticello Marketplace (with a stop at Panera!) with the Bike Initiative, W&M's Bike Advocacy Group! The pace will be slow and the distance short. Meet on the Terrace at 11.

Cru Cookout

Yates Field

We want to get to know YOU better! Join members of Cru, one of the Christian ministries on campus, for our annual cookout. We'll be meeting at the picnic tables by Yates Hall for food and frisbee this Sat. We'd love to see you there.

Show More...
Sandbox Improv's Welcome (Back) Show!

Ewell Hall, Ewell Recital Hall

Come watch an hour of completely improvised Long-Form Comedy to kick off your beginning of the year festivities! Come join Sandbox in Ewell Recital Hall at 7pm on Saturday Aug. 29th for free fun before the Jukebox the Ghost Concert!

Pointe Blank Dance Company Fall Audition

Sadler Center, Chesapeake A

Do you love to dance? Pointe Blank is a student run dance company that specializes in all types of dance, including jazz, hip hop, ballet, contemporary, and tap! To audition, you don't need to prepare anything ... just come dressed to dance!

All events in August 2015
Ongoing