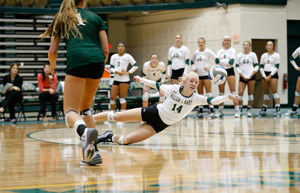 Women's Volleyball vs. UNCW
October 9, 2015 7:00pm
Come out and support the Tribe! More...
Fall Break Backpacking in the Smokies

Student Recreation Center

De-stress over Fall Break by trekking through the Great Smoky Mountains National Park! No experience is required, however, you will be carrying your own gear over challenging terrain, so participants should have good physical fitness.

Fall Break Climbing with the Tribe Adventure Program

Student Recreation Center

Let's go to the New River Gorge in West Virginia to get in some great climbing! Camping at American Alpine Club campground at night and climbing during the day. If you're looking for an adventure filled Fall Break, this trip's for you!

Show More...
Feather Foster Signing The First Ladies

William & Mary Bookstore

This painstakingly researched new book examines the oft-neglected roles of 26 remarkable first ladies in shaping our country's destiny

History Department Brown Bag Series

James Blair Hall, Department Library

Please join us for Beth Wood's Brown Bag practice conference talk, "'No visible marks or scars': Antebellum Virginia Free African American Bodies and the State"

Colloquium - Erin Ryan, NASA Goddard

Small Hall, Room 110

Erin Ryan, NASA Goddard, Title of Talk: Asteroids and Comets: Keys to understanding the early Solar System and Exoplanetary Systems

Emerson Baker Signing A Storm of Witchcraft

William & Mary Bookstore

Baker examines one of the most fascinating and disturbing events in early American history, the Salem Witch Trials, which resulted in the execution of 19 villagers in colonial Massachusetts.

Show More...
Ongoing