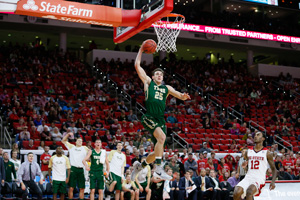 Men's Basketball vs Delaware
January 26, 2017 7:00pm - 9:00pm
Come out and support the Tribe!

More...
AMP // Disco Derby

Sadler Center, Tidewater

AMP is bringing back disco!
We're going back in time to launch the spring semester with an '80s themed disco derby. We've got the skates, the groove, and the fun -- all we need is you! Join us January 21st to skate your way through the rest of the year.


Acoustic Lunch with Guitarist Louis Vangieri

William & Mary Bookstore

Drawing influence from such diverse artists as The Beatles, James Taylor and Pat Metheny, Mr. Vangieri performs an eclectic blend of acoustic covers and original works.

Pointe Blank Dance Company Auditions

Sadler Center, Chesapeake A

Pointe Blank is a student run dance company that performs all styles of dance. Auditions for spring semester will be Sunday, January 22 from 1-3 in Chesapeake A, upstairs in Sadler. No preparation necessary, just come ready to dance!

Diversity & Inclusion: Lunch & Learn

Sadler Center, Chesapeake C

"Responding to Resistance" is an interactive workshop presented by the Virgnia Center for Inclusive Communities on January 23 at 12:00 noon in Chesapeake C. Lunch will be provided.


Show More...
Ongoing
Personal Training Course- Spring 2017

Student Recreation Center

Interested in becoming a certified Personal Trainer? Spaces are limited to 20 students so complete your online application today!