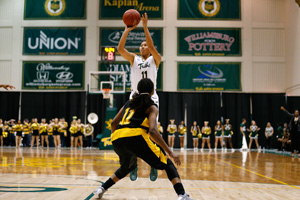 Women's Basketball vs Drexel
March 1, 2017 7:00pm - 9:00pm
Come out and support the Tribe!

More...
Wham Bam Exam-Cram Jam

Sadler Center, Lodge 1

Come on down to Lodge 1 to hear the best big band in town play some sweet tunes!

Phy Sci Noon Seminar (VIMS)

VIMS - Andrews Hall, Dominion Classroom 326

"Recent observations of sediment transport and deposition on a tide-dominated mega delta" by Rip Hale, Old Dominion University, hosted by Courtney Harris, VIMS

Asuncion

Phi Beta Kappa (PBK) Memorial Hall, Studio Theater

W&M Theatre presents Asuncion written by Jesse Eisenberg.

Winter Concert

Phi Beta Kappa (PBK) Memorial Hall

Admission: FREE for Students, children under 18, veterans, $10 general admission
Frederick Delius, A Walk to the Paradise Garden
Student Concerto Competition Winner
Ludwig van Beethoven, Symphony No.4


Show More...
Ongoing