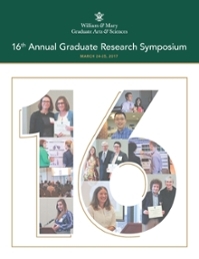 16th Annual Graduate Research Symposium
March 24, 2017 8:00am - March 25, 2017 1:30pm
The annual Graduate Research Symposium (GRS) is a unique educational and networking event, encouraging exchange between disciplines and bringing together students from William & Mary and regional universities. More...
OGSR/GSA SUPPLEMENTAL CONFERENCE TRAVEL FUNDING

Stetson House

Through a collaborative effort between the Office of Graduate Studies and Research (OGSR) and the GSA, a limited number of awards are available to assist selected Arts & Sciences graduate students who are attending or presenting at a research conference.

RESEARCH FUNDING A&S GRADUATE STUDENT RESEARCH GRANTS

Stetson House

A&S Graduate students are encouraged to apply for support [maximum of $300] from the Office of Graduate Studies and Research (OGSR) that will allow them to collect data at museums or archives, conduct research, and travel to field work sites.

Rony Gustam Kalfarisi: Physics Dissertation Defense

Small Hall, Room 122

Rony Gustam Kalfarisi, Final Oral Examination for the Ph.D. Degree, Title: "Investigation of Local Structures in Cation-ordered Microwave Dielectric: A Solid-state NMR and First Principle Calculation Study."




Show More...
Ongoing